Click here to see the full size image! As you probably already know, collars are one of the main symbols in BDSM, so I though today Master (original character and reference by Aenaluck) could help me a bit as a model for speaking a bit about it 😙😏 Which one you think suits him better? Tell me in the coments! 😋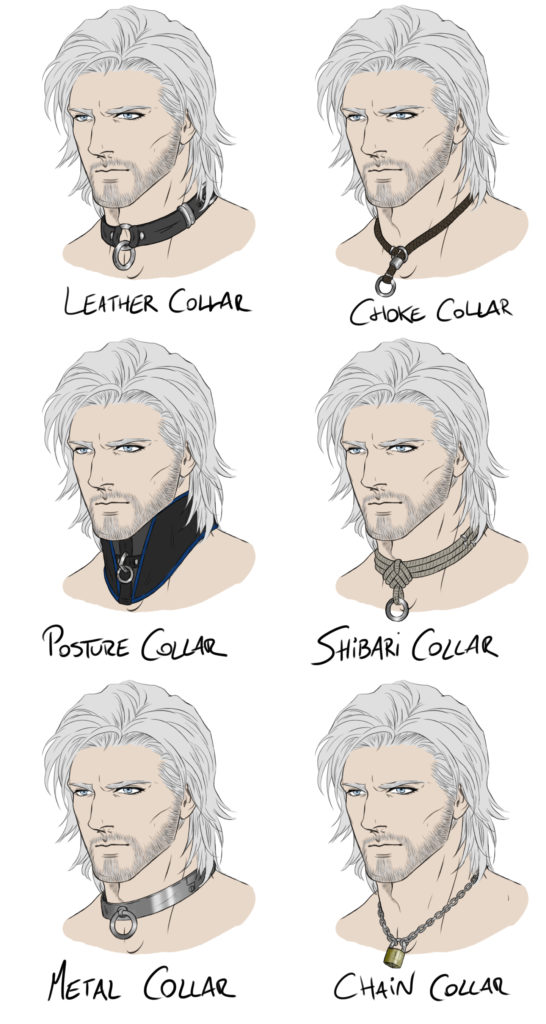 The first thing that must being understood, is that collars not always have a pragmatic purpose during a BDSM session. They can be used as a bondage tool, indeed, but they are also a symbol of submission and devotion. Wearing a collar can put the submissive's will in the appropriate psychological predisposition of following orders and satisfying the dominant's desires.
There are many types of collars, and they can all be used in different ways.
LEATHER COLLAR
Most common and used in BDSM. Leather collars have multiple shapes and styles, depending on the submissive's taste. But they're normally made up with a leather band attached to a metal ring, what makes this collar a good tool for bondage and restriction play. Those who wear this collar are inmediately identified as submissives.

– Materials: Leather, neoprene.
– Purpose: Fashion, bondage, pet play.
– Comfort: 4/5
CHOKE COLLAR
Also known as "training collar" or "punishment collar", usually used in pet play and discipline training for submissives. A sliding knot prevents submissives from removing the collar themselves, but allows dominants to punish them by pulling the metal ring causing a slight strangulation. Submissives with training collars are probably still in their learning period.

– Materials: Leather, rope, chain.
– Purpose: Punishment, discipline, pet play.
– Comfort: 4/5

POSTURE COLLAR
Also called "position collar". Highly restrictive, its rigid structure prevents the submissive from turning or moving the neck more than a few centimeters. Many consider it aesthetic because it forces the wearer to maintain an upright posture for a long time. It can also be used as a punishment tool and can have multiple shapes and styles.

– Materials: Leather, rope, neoprene, plastic, metal.
– Purpose: Fashion, punishment, discipline.
– Comfort: 1/5
SHIBARI COLLAR
This necklace has, like does Shibari, an artistic as well as pragmatic purpose. Its shape can change depending on the complexity of knots' design, as well as rope's color. It can be used in bondage and restrictive games. It's a perfect option for those who love playing with ropes.

– Materials: Rope.
– Purpose: Fashion, bondage.
– Comfort: 5/5
METAL COLLAR
Metal collar is intended for slaves 24/7. It's made of steel, what allows the slave to wear it 24 hours a day without worrying about wetting or damaging it. This collar opens and closes with a lock, whose key is in the dominant's posession, the only one with the power to remove the collar from the slave.

– Materials: Metal, chain.
– Purpose: Fashion, bondage, discipline.
– Comfort: 2/5
CHAIN COLLAR
When a BDSM couple formalizes their relationship, they replace leather collars with a chain necklace. This necklace closes with a padlock whose key belongs to submissive's partner. This symbolizes a closed relationship between the two parties along as total devotion of the submissive to his/her dominant. Submissives with chain collars are respected in BDSM circles, because it's understood that they are not interested in anyone but their dominants. There is a famous saying: "Never touch other dom's chain."

– Materials: Chain.
– Purpose: Fashion, bondage.
– Comfort: 3/5
Leave a Comment